Board of Directors:
Denise Schleckser, Board President

Denise came to the DC area from Boston, MA in 2001. She graduated with a B.S. in clothing, textiles and design from Douglass College of Rutgers University in 1985. She worked in retail management, inventory control and buying until leaving the field to raise her family. From the time Denise had her first child, she has volunteered in her community.
In addition to many roles within her school, church and scout communities, Denise has enjoyed volunteering with non profits that help women and children, including the MOMS program (Mothers Offering Maternal Support), Women for Women International, First Book, and Girls on the Run of Montgomery County. She joined Board in 2012, and currently runs the the various projects at the Interfaith Women's Center, a local women's shelter in Rockville. She lives in Potomac, MD with her husband and sons.
Salma Hasan Ali, Vice President & Chief Inspiration Officer
Salma is a writer, blogger and storyteller, with a focus on sharing personal essays as a way to help people unders
tand one another better. Her own personal story, "Pakistan on the Potomac", is published in the Washingtonian, and her blog '30days30deeds' shares the essence of the month of Ramadan through personal reflections on gratitude, traditions and good deeds.
Her work has been published in national and international media, including The Washington Post, MORE magazine, the Washingtonian, The Islamic Monthly, Patheos and AltMuslimah, and she has been invited to share her stories at the State Department, the United Nations, and at schools, interfaith events and conferences around the world. Through her consulting practice, Salma helps individuals, nonprofits and businesses hone, develop, write and market their own stories. Previously, Salma worked as a writer, editor, and press and information leader for international organizations in Geneva, Paris, Stockholm, Bahrain and New York. She was the Senior Press and Information officer for the Commission on Global Governance, an international commission of world leaders; Senior Editor at the International Institute for Democracy and Electoral Assistance; and Researcher and Editor at The Advisory Board Company. Salma has a Masters Degree from the School of International and Public Affairs at Columbia University and a BA from Columbia College. You can read Salma's articles and learn about her consulting work at:
http://www.salmahasanali.com/
.
Peg Philleo, Secretary

Peg has lived in Montgomery County most of her life. As an Information Technology project manager at a publishing firm, Peg's professional focus has been in delivering and managing various Sales and Marketing systems. Peg lives in Bethesda with her husband Steve and has two children Norris and Kit. Peg received her B.S. from Towson University in 1986 and her MBA from The American University.
Peg has been involved in many Movermoms/KindWorks activities and has been involved with all the Inspiration Days. Peg has been very active parent volunteer with several Whitman athletic teams and USNA groups. Peg is an avid tennis player and also loves various creative projects including jewelry design, knitting and cooking.
Heidi Moskowitz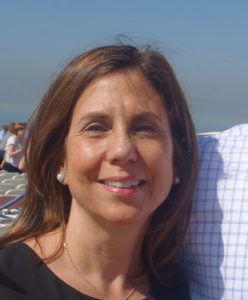 Heidi grew up in Westchester County, New York, and has lived in the DC area since 1983, with a 13 year stay in Des Moines, Iowa. She has been back in the area for two years. She received her BA from Washington University in Saint Louis and a JD from Case Western Reserve University in Cleveland, OH. After practicing law for over 15 years, including ten years as Assistant General Counsel at AARP, she has volunteered for a variety of organizations, including children's, community, and religious organizations. She has served on many community and philanthropic boards, including Youth Emergency Services Shelter in Des Moines, IA and the Red Cross, Central Iowa Division.
Heidi lives in Bethesda, MD with her husband and dog Rocky. She has two adult sons.
Susy D. Quispe
Susy is married with 4 wonderful children (ages 20, 19, 14, 8). She is currently working as a Branch Manager for Wells Fargo Bank, where she has been enjoying her banking career for over 15 years now. Through her job Susy has been able to reach lots of non-profit organizations and become an avid volunteer with Goodwill Stores, Capital Are Food Bank in DC, Manna Food in Gaithersburg, Summit Hall Elementary School, Gaithersburg Elementary School, University of Maryland, National Book Festival, among them.
Susy and her family have been volunteering with KindWorks by providing dinner at The Carroll House, and the Wilkins Avenue Women's Assessment Center, and also by becoming part of our mentor group who work with inmates at the jail in Boyd's Maryland.
She is excited to be bringing her experience, knowledge, and insights to help KindWorks keep helping our community! Susy believes that through KindWorks we can make a big difference in our community, and we need to work together to make it happen!
Alexa Abdelatey

Alexa is a Muslim American convert with four teenagers and an Egyptian husband, living in Virginia. She grew up in Chevy Chase and Garrett Park, and majored in French at Haverford College in Pennsylvania and Montpellier, France. As a teen, she became involved with HIV/AIDS education and support at Whitman Walker Clinic, and organized several displays of the NAMES Project AIDS Memorial Quilt during college and as a teacher at St Margaret's School in Tappahannock, VA. At St. Margaret's, she worked with students on service learning projects across a variety of issues. She taught French for 5 years before staying home, raising and homeschooling her children in their early childhood years. She then taught French for 4 years at Sidwell Friends Middle School. In recent years, Alexa has been a Girl Scout leader and an occasional speaker in schools about Islam and her experiences as a Muslim American. She first became involved with KindWorks via the interfaith "Stirring it up in the kitchen" dinner discussions. Her volunteer time with Project Affinity, a small Muslim service organization, has deepened an interest in serving the homeless. She is honored to be working with KindWorks on their welcoming Refugees work and hopes to also serve the homeless through more KindWorks' projects.
Karen Simon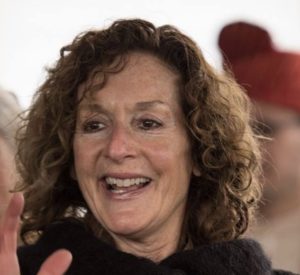 Karen has worked in radio, theater and documentary film. Upon graduation from the University of Michigan, she moved to DC for a job with the Voice of America. After several years, she moved on to Voices from the Streets, a theater troupe of homeless and at risk children and adults. As theater director, she and the troupe brought the real life stories of the troupe members to thousands of people, from students to politicians. She then moved on to documentary film production with Spark Media, where she still free lances. Working in the community has always been part of her life, and has encompassed projects and programs for people of all ages and backgrounds, from hunger issues and education to awareness raising and the environment. Karen is married and has 3 adult children.
Maureen Zutz
Maureen grew up in New York City and has lived in the DC area for nearly thirty-six years. She received her BA from Iona College and her Masters in Health Services Administration from The George Washington University. Maureen launched her career as a critical care registered nurse and transitioned to the role of health administrator. Her most recent work in the not-for-profit world was as Director of Development for one of the largest health care foundations in the DC area where she earned a reputation for achieving proven results in philanthropy. She has extensive experience working with corporate and community leaders and has helped secure seven figure gifts.
Maureen has volunteered for a number of organizations and currently serves on the board for HVO, a global health organization in Washington, DC. She is excited to assist KindWorks fulfill its mission and looks forward to working with other KindWorks volunteers.
Maureen resides in Potomac, Maryland with her husband Robert. She has a daughter and son who both live nearby in Washington DC.
Staff:
Debra Lang — Executive Director
Debra Lang comes from New York, by way of Chicago, where she attended college at The University of Chicago. She worked for many years afterwards in law firms in Manhattan, first in Public Finance, and then in Law Firm Management. She and her husband have lived in Montgomery County for the past 20 years, raising their 2 wonderful daughters and many fun-loving (but messy!) dogs – always volunteering at schools and in the community in a wide range of capacities.
Joining MoverMoms (and now KindWorks) as its Executive Director beautifully blends Deb's passion for giving back to the greater community and natural inclination to oversee and manage.
Hali Browne London — Treasurer
Hali Browne London is a native of Montgomery County, Maryland and graduated from Sherwood High School. She received her undergraduate degree from Boston University and her graduate degree in Finance from the University of Maryland. Hali is a Certified Financial Planner and Registered Investment Advisor. She founded The Solid Ground Foundation, Inc., a non-profit organization dedicated to bringing financial planning and literacy to hard-to-reach communities. Hali lives in Bethesda, Maryland with her husband, three children and two dachshunds.
Committee Chairs:
Jimmy Pruitt
Jimmy handles our IT Support and our Carroll House Dinners.
Monica Beatty
Monica handles our Adopt-a-Road and Weed Warriors projects.