Friends:
As we know food brings us together and allows us to get to know one another better. At KindWorks we've had a series called "Stirring it up in the Kitchen", in which we gather together and cook meals from different countries while learning about each other's cultures and traditions. Now we're launching a series of international cooking lessons by our very own 'celebrity chefs' to continue the initiative and as a way to raise funds for our work. We kicked off the series with a Vietnamese cooking lesson and lunch by our Inspiration Day speaker Thu Tran, a refugee from Vietnam. We munched on rambutan and lemon grass, rolled our own summer rolls stuffed with broiled salmon and fresh veggies. You can see some pictures from this first fabulous gathering below.
We have an amazing series of monthly cooking lessons lined up. Our spring semester includes refugee chefs from Foodhini, the owner of the Pakistani restaurant Sakina Halal Grill (who quietly and generously feeds the homeless), and other amazing KindChefs specializing in Kashmiri, Peruvian and Egyptian cooking!
Let's cook together and connect!
Each seat at the table (and in the kitchen!) is yours for a $75 tax-deductible donation to KindWorks – links provided below (where you can indicate any food restrictions). Sign up now; space is very limited!
Upcoming Cooking Classes/Meals
Sunday, March 4, 2018 – lunch
Egyptian Food with Brenda Abdelall (chef contributor to The Immigrant Cookbook: Recipes that Make America Great) in Northern Virginia 11:30am-1:30pm
Sunday, April 22nd, 2018 – lunch (SOLD OUT!!)
Kashmiri Food with Humaira Fazili in Potomac, MD 11:30am-1:30pm
Thursday, May 10th, 2018 – dinner (SOLD OUT!!)
Master chefs from Foodhini teach their family recipes in Union Kitchen in NE, DC 6-8pm
Saturday, June 30, 2018 – lunch
Peruvian Food with Susy Quispe and her amazing mother in Laytonsville MD 11:30am-1:30pm
pictures from our Feb, 2018 Pakistani Cooking Class/Luncheon at Sakina Halal Grill with Kazi Mannan: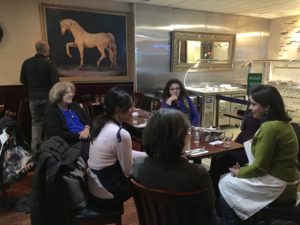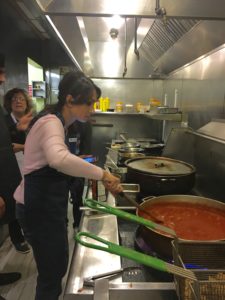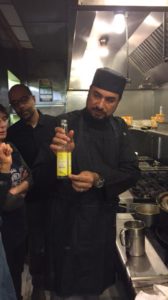 pictures from our Nov, 2017 Vietnamese Cooking Class/Luncheon with Dr. Thu Tran: